ÆTER / ETHER
ETHER is a large Nordic exhibition venture at the Art Center Silkeborg Bad, showing works by 12 artists from Denmark, Iceland, Finland and Norway. The exhibition's title and concept have been formulated by the two artists Vinni Frederiksen and Ane Fabricius Christiansen.
The two have invited colleagues in the arts to create works with inspiration from the historical term ETER, the indefinable "ethereal", pure, airy substance which, according to classical philosophy and physics, fills the sky.
Historically, Ether has given rise to many speculations: how do you retain this substance, how do you measure, weigh or describe it?
A total of 12 artists are invited to contribute works that deal with this problem.
They each work from their own practice with the concept and thus contribute to a whole that fills all the exhibition halls at Art Center Silkeborg Bad.
The participants are: Anett Biliczki (Hungary/resident DK b. 1987), Pipaluk Lake (DK, b. 1962), Pekka Paikkari (FI b. 1960), Grethe Wittrock (DK b. 1964), Inge Lise Westman (DK b. 1945), Kasper Friis Kjeldgaard (DK b. 1983), Erna Skúladóttir (IS b. 1983), Hanne Friis (NO b. 1972), Lise Seier Petersen (DK b. 1952), Barbara Amalie Skovmand Thomsen (DK, b. 1980) and the two initiators Vinni Frederiksen (DK b. 1975) and Ane Fabricius Christiansen (DK b. 1978).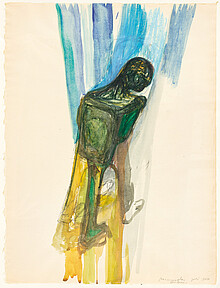 15 June - 22 September 2024
In light of the repetition
Culture narrator Peter Brandes
Peter Brandes continuously plays through and reinterprets selected basic cultural narratives with his art. These shared narratives, which are otherwise easily forgotten in today's high-speed society, he retrieves from the history of civilization, biblical material and mythology. Often with suggestive visual expressions that convey important experience and open to reflection more than they postulate ready-made answers. His works re-actualize and throw new perspectives into important narratives.
Brand new works are shown as well as traces that reach back in a practice that has a great internal coherence. The exhibition forms a key to a deeper understanding of the practice the artist has now developed over a lifetime. Read more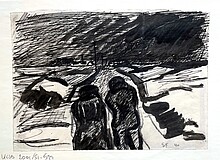 15 June - 22 September 2024
Populated Landscapes
Sculptor Lars Abrahamsen, who himself apprenticed with them, has curated an exhibition that focuses on the graphic art of the photographer family Thomas and Poul Pedersen's Study Collection of Graphics. The collection itself today belongs to the Art Center Silkeborg Bad and is found on a daily basis in folders in a special room next to the halls where Inhabited Landscapes are now presented in a larger area. In the same period and area, changing artists will work with their art for open air in a living Drawing Studio.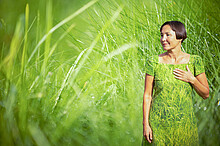 15 June - 22 September 2024
THE GRASS IS GREENER - WHERE I WATER MY HEART
An encounter with the metaphysical heart
Visual artist Linda Riber invites the audience into the field between the tangible and the intangible human heart. She sets up dialogue, interaction and reflection based on her personal experiences and approaches to the theme. Over a long period of time, she has collected data and researched both the physiological and the metaphysical aspects of what the heart is capable of. Data from various research sources is included in one of the artist's installations. The exhibition in the east wing consists of 3 installations, each in their own smaller room.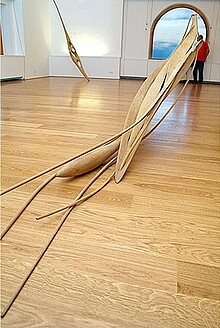 5 October 2024 - 12 January 2025
Mirko Zrinšćak - The Essence of Nature (working title)
Mirko Zrinšćak is a sculptor, born in 1953 in Volosko in Croatia. His sculptural forms have in common that they are made of wood that he finds in his immediate surroundings - a protected nature reserve in the forest of Mount Učka, where he lives and works.
Zrinšćak works like a craftsman with the material and it is the work with the wood in ecological and spiritual balance that is in focus. Some of Mirko Zrinšćak's sculptural works are of a constructive nature, others are more organic, and as an artist Mirko Zrinšćak follows in the footsteps of Brancusi and Arp: He searches for the essence of nature, which he translates into sculpture.
Anne Berk, who is the curator of the exhibition, emphasizes: "For me, his fluid forms reflect energy, growth and longing. Many of his elongated forms reach for the sky. They have a soul."


5 October 2024 - 12 January 2025
FEEL THE SPACE OF THE FOREST
As the title suggests, the exhibition focuses on works that give the viewer an impression of the special space that the forest represents: An architectural space, a space with a sound backdrop, a psychic space, a changing space, a historical space. A space that leaves a "hole in the sky" if the forest is felled. A space without which we cannot exist as humans.
The artists represented have very different approaches to the phenomenon of forest: as memory, botanical site, climate maintainer, CO2 absorber, as a place for activism, as sacred and a place for contemplation.
The participants are (as a starting point - changes may occur): Eva Jospin (1975, F), Abel Rodriques (1941, Columbia), Margit Lucacs (1973, NL) & Persijn Broersen (1974, NL), Cecylia Malik (1975, PL) , Marinus Boezem (1934, NL) , Helge Hommes (1962, DE) & Saxana Nicole Schötschel (DE).