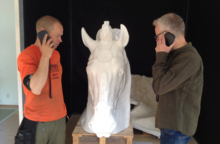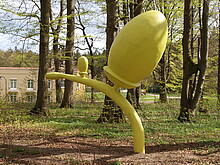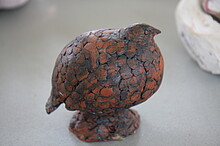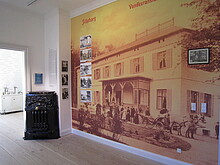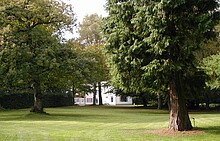 AUDIOGUIDE
Try Art Centre Silkeborg Bad's audio guide.
Hear about the sculptures in the park.
About the history of Silkeborg Bad as a health spa.
Or learn about the craftsmanship behind the sculpture art.
Ask for the audio guide in the reception
With the audio guide you can get information about:

THE SCULPTURE PARK
In the sculpture park you can experience all kinds of sculptures. A few sculptures have had their place in the park since 1929 - but most have been added after the Art Center's opening in 1998. With the audio guide, you get a brief introduction to each sculpture that emphasizes what you can see and touch.

THE SCULPTURE SPACE
In the sculpture space you will get a glimpse into the art of sculpture. With the audio guide you will get both an insight into the craftmanship of sculpture and an outlook towards its rich history.

THE HISTORY OF SILKEBORG SPA
In the Forrest Villa you will find the permanent exhibition about Silkeborg Spa. With the audio guide you can hear about the daily running's of the Spa, the various treatments, the time during the war and much more. You can also go for a walk in the park and hear about the Spas original buildings and the Arnakke Springs.
THE BOTANY OF THE PARK
The surrounding park and forest store a wealth of tree- and flowers species. Hear about selected species and gain insight into the park's changing history.

THE HELTH SPA DURING THE WAR
The area around Art Centre Silkeborg bad still hides traces of the time during World War II, when the health spa was taken over by the Germans. You can hear about some of the many bunkers that the Germans built in the area and learn about life as a German soldier at Silkeborg Bad.

DISCOVER WITH THE WHOLE FAMILY
All audio tracks are also available in a version for children. In the sculpture park you can hear how other children have experienced the sculptures. And in Skovvilla you can hear about all the things here from when this was a spa. You can also go up to the sculpture space and learn more about how to make a sculpture.