2014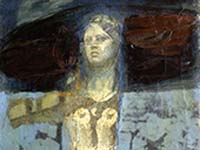 January 18 - April 21, 2014
Jytte Rex: Division lines
Large exhibition by the Danish artist and filmmaker Jytte Rex (b. 1942). The exhibition displays photographs, collage and gouache, and selected films. Her imagery is poetic and dreamlike. Outlines of human figures and other organic life as touch of another universe is often appearing. Jytte Rex has previously exhibited at the Art Center when it opened in 1998 with the exhibition Fuglefri. This retrospective exhibition provides a good opportunity to gain an insight into her art.
January 18 - April 21, 2014
7
Number magic is in focus in this exhibition which offer expressions from drawing, painting and collage to video and sculpture. The seven Danish artists are: Maj-Britt Boa (1963), Ole Sporring (1941), Mogens Pøhlsgaard (1947), Daniel Svarre (1976), Jo Møller (1947), Pernille With Madsen (1972) og Camilla Reyman (1981).
March 30 - March 30, 2014
In dialogue with Kierkegaard
Tanned Danish artists have each created a work of art that relates to one of five key concepts of Kierkegaard: Anxiety, freedom, faith, love and guilt. The participating artists are Peter Brandes, Erik A. Frandsen, Maja Lisa Engelhardt, Cathrine Raben Davidsen-and Christian Lemmertz. The mini exhibition, which appears in several places in the country, are arranged in continuation of the year of Søren Kierkegaard and setting the stage for discussion of these key concepts.
April 26 - September 7 2014
JORN LAB
Creative laboratory where 12 contemporary young and elderly Danish artists celebrates their predecessor's willingness to experiment. In the lab each of the artists creates works on the basis of parts of Jorns work that they find interesting. Some give him opponents, others are fascinated by the vigor they still experience in the imagery and theoretical work of Jorn. In JORN LAB there will be drawing and painting, video and installation of various kinds. As a guest of JORN LAB you can 'test' your own knowledge, learn about Jorn and how contemporary artists see him today. JORN LAB is designed to mark the 100th anniversary of Asger Jorn's birth in 2014.
May 3 - September 7 2014
Ingrid Bugge: The Essence of Ballet
For more than a year, the Danish photographer Ingrid Bugge followed the Royal Danish Ballet behind the scenes; the exercises of the ballet dancers. There she took these exhibited 50 striking photos of the world of dance, from very small up to two meters tall sizes. She zooms on details and edits her photographs, so the viewer is facing a kind of essence of dance in all its beauty.
May 5 – September 14, 2014
Knud Nellemose
An exhibition of works by sculptor Knud Nellemose (1908-1997) from private and public collections. Sculptures and sketches are exhibited as well as documentation about the recasting of the Freedom Monument, which Nellemose created to Silkeborg after World War II. The monument was stolen in 2012 and destroyed by metal thieves, but is reconstructed after a collection and recovery process in 2014.
June 21 – December 14, 2014
Jørgen Rømer. His graphic oeuvre
A special texture characterizes the graphics of Jørgen Rømer (1923-2007). He made his debut as a graphic artist in 1960 and particularly the 1990s he showed several solo exhibitions. The exhibition has been developed in connection with a major publication about his graphics.
July 4 2014 – until destroyed by weather. SCULPTURE PARK
No man ever steps in the same river twice
- 99 bowls for Heraclitus
Ceramic artist Lise Seier Petersen (1952) work with and against the materials and forces of nature in this work of art. The clay for the 99 pots is fired at different temperatures, creating different color effects. At the same time the art work is exposed for wind and weather in the Sculpture Park and will gradually be changing until it is completely destroyed. The Greek philosopher Heraclitus is godfather to the thesis that everything is changing. Read more

September 27 – December 14. 2014
Masonry
The painter Odd Moe and the sculptor Frede Troelsen has made this exhibition in a common fascination with the details of the church walls and other surfaces around Funen. Together, they have photographed lighting effects and textures. Separately, they have translated the inspiration to photographs and reliefs and it's all presented in the exhibition.
September 13 – December 7, 2014
BEGINNING
A group of Norwegian and Danish artists circle about the Syrian colleague, poet Moustafa al Yassin. The story is personal and universal. How do we maintain our identity and how can the faith in the future be retrieved after a fate of exile and separation from family? Will there be a spring, when winter is over?
Participants: Gerda Thune Andersen (DK), Annette Skov (DK), Tine Kjølsen (DK), Tormod Solløs (N), Meta Norheim (N), Marit Benthe Norheim (N / DK), Hagbart Solløs (N) and Moustafa al Yassin (SYR / FIN / N). Read more