2012
14. january - 6. may 2012. Kurbygning
Seeing Landscape
THE CLEVER ENJOY THE MOUNTAINS; THE WISE ENJOY THE WATER
The landscape painting is the focal point for this meeting between twelve Chinese artists and twelve artists from the Danish artist association CORNER. Both parties have visited each other's countries and landscapes. The exhibition has first been presented in Xiamen, China.
11 February - 28 May 2012. Skovvilla
Architectural rounds
Ideas about space are explored, and showrooms get opposed when visual artists and artisans exhibit brand new works. The following selected artists contribute to the architectural inspection: Karen Bennicke, Jesper Rasmussen, Lene Bødker, Ruth Campau, Kaspar Bonnèn, Poul Ingemann and Gudrun Pagter. Appears later at Designmuseum Denmark.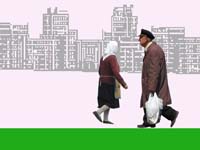 February 11- May 28 2012. Kurbygning
Auf der anderen Seite #2
With the headline, Anne Mette Larsen refers to both the double-weaving technique, to her great motivational source of inspiration, the concrete buildings in former Eastern Europe, and to this a long run of several stations. Anne Mette Larsen received the Silver Medal in 2010 and the prestigious Biennnale award for Danish crafts and design.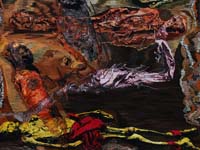 May 17 - August 26 2012
ARTAPESTRY 3
International triennial with 37 artists participating, all selected by a jury. Central for the exhibition are the manifold possible expressions in which the weavers experiment with new materials as well as methods of weaving.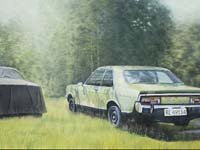 May 12 - August 26 2012
ROAD
In this exhibition visual artist Steen Larsen with his hyper realistic and large paintings in different ways interprets the theme of 'road'; road as the physical road, but also always being on your way, ultimately that nothing stand still. The exhibition is organized in cooperation with Galleri NB og Sophienholm.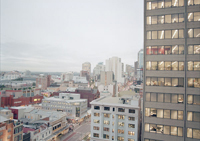 June 2 – September 2 2012.
Brink and Sverdrup
Photographer Jens Brink and sculptor Kristian Sverdrup meet in this exhibition, whereto they both found their inspiration in the culture of Greenland.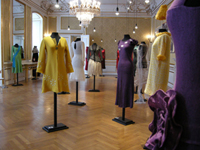 June 2 – September 2 2012.
From Queen to Femme Fatale
- Knitting art from Netmaskerne through ten years.
The group shows a selection of about sixty unique models.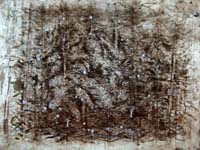 June 9 - December 16 2012
Inge Lise Westman: Twilight
One man graphic exhibition with etchings, lithography, xerography, digital print and drawing, created from end 1960ies until today.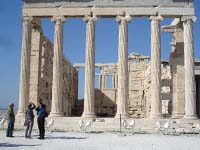 September 8 - December 2 2012. Kurbygningen
Dialogue with Acropolis
Søren Elgaard, Bjarke Regn Svendsen and Karin Birgitte Lund
See how antiquity is a continuously inspiration source for contemporary artist, who are represented with painting, drawing and video. The catalogue and documentary sections add the narrative of a centuries old tradition of artistic interpretation of temple and sculpture from Acropolis. Later to be shown at the Museum of Antiquity in Aarhus. Curator: Hanne Pedersen.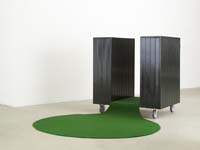 8. september - 16. december 2012. Kurbygningen
THE PARADE
Visual artists Sergei Sviatchenko and Tine Bay Lührssen is exhibiting together for the first time. They have created an installation in a controlled language, operating with parallel structures, mirroring and resistance between their media of expression, wallpaper collage and sculpture. The installation point to narratives about space and sites.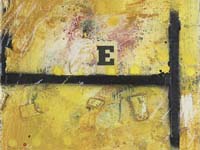 September 15 - December 2 2012
Lars Pryds: Fifty/Fifty
The exhibition shows the relationship between Lars Pryds' art and graphic design which over the years has gained international recognition. His career has proceeded along two parallel tracks: He has unfolded a comprehensive exhibition activity and worked as art director at Jyllands Posten and Berlingske as well as in a variety of freelance assignments. As a very special niche Lars Pryds also develops fonts.
October 13 - December 9 2012
Storm P.
Although many of Robert Storm Petersen drawings uses humor to communicate with the viewer or reader, there are also significant elements of seriousness and reflection in his works. The after thoughts are still relevant in the present. In the exhibited drawings you will see comments on the organization of society and values. The artist is concerned about the big questions of life as seen through the more eccentric characters. The exhibition is arranged in connection with the local KK44 Festival "Humor in earnest" in week 44 and includes selected drawings on loan from the Storm P. Museum in Copenhagen.