2008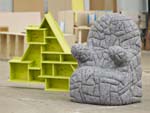 12 January - 17 February 2008
The Cabinetmakers' Autumn Exhibition (SE): When Autumn Falls – Furniture for When You get Old
The challenge from SE in 2007 was how furniture making can be thought in exiting ways as we get older. And when is it actually that we get older? SE has a long tradition of pointing to innovation in the cabinetmaker's field. This time guest exhibitors from Sweden and Finland are also included. It is the first time that we have this collaboration with SE and we hope that our visitors will approve the initiative.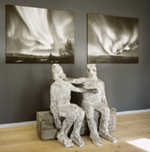 12 January – 24 March 2008
The Eternal Present
Strikingly beautiful landscape photography, sculptural beings and spaces. The sculptor Eli Benveniste (b. 1961) and the photographer Kirsten Klein (b. 1945) both work with subtle observations and interpretations of nature, human beings and traces of life in general. This makes the dialogue between their artistic works interesting. The exhibition has been produced in collaboration with Sophienholm.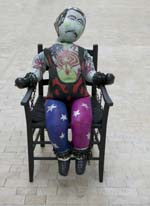 12 January – 18 May 2008
SIDESHOW
A humoristic exhibition with the young Danish artists Charlotte Bergmann Johansen (b. 1970), Christina Hamre (b. 1974), Annesofie Sandal (b. 1977) and Nanna Starck (b. 1976), who all graduated from The Royal Danish Art Academy in the recent years. Our visitors are invited into a mix of illusion and reality. In this world delusion, absurdity and fantastic Middle Ages break the normal order of reality.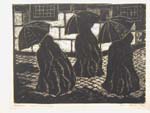 23 February – 18 May 2008
Graphic Dialogue
A family collected, but in what ways? See selected graphic works from the study collection of photographer Thomas Pedersen (1900-1975) opposite to graphic works from his son, photographer Poul Pedersen (b. 1928) and wife's collection.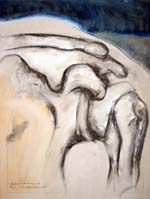 15 March – 22 June 2008
Allan Schmidt
Schmidt (1923-1989) stayed for years in France during the 1950's and 1960's as did several artists of his generation, who were central in Danish modernism. In France he got the best artistic training in an international atmosphere. He was a many-sided artist, who created painting, graphic works, and sculptures as well as ceramics. With this exhibition and a publication we would like to throw light on this artist's contribution to recent Danish art history. Curator: Hanne Pedersen.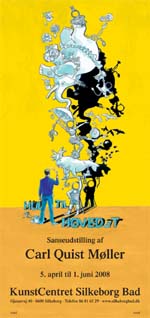 5 April – 1 June 2008
A Hole for Your Head
Sense perception exhibition for children, created by the multitalented Danish artist Carl Quist Møller (b. 1964). Our fantasy is in focus in this exhibition, which encourages the participation of children and other visitors. By means of different roles the exhibition guests will physically and mentally be in the world of painting and in the space of fairytale. The target group is children and families.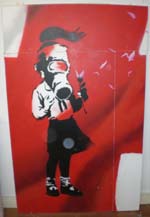 14 June – 28 September 2008
Call it what you like!
COLLECTION RIK REINKING
Our visitors can look forward to strong art pieces and expressions, where the artists by means of humor and intense colours try to break up ideas about art. This is really a good possibility to get insight in central aspects of contemporary art. The inspiration derives from conceptual art, minimalism and pop art of the 1960's and 1970's. The exhibition has been organized so it points to links between these inspiration sources and present-day art work, especially street art. More than 30 artists from abroad are represented, and they are all internationally renowned. The art works will be exhibited in 1200 indoor m2 as well as in the sculpture park. The exhibition is realized in collaboration with the young German collector Rik Reinking, who with passion and intensity gradually has build up a considerable internationally oriented collection.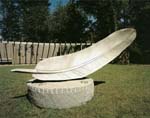 5 July – 21 September 2008
Which Activities Took Place during the First Ten Years?
A retrospective of the activities at the Art Centre Silkeborg Bad during 1998-2008. Some visitors will remember their personally good experiences with art from abroad or from our own region, new visitors will get an impression of the diversity of our activities. The exhibition is primarily based on documentary material.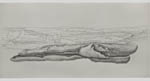 4 October - 4 January 09
The Structured Space - Cobweb in September's Grass
Sculptor and graphic artist Lis Nogel (b. 1945) registers the patterns of nature – especially the spiral, movements and natural light phenomenon. The man-made maze also has her attention. She transforms these investigations into drawing, sculpture and relief, in dialogue with the exhibition space in building Skovvilla.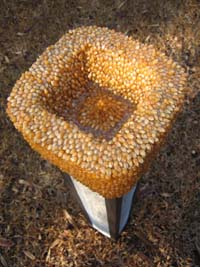 11 Oct. -11 Jan. 09
Immigrants from Mexico: Corn, Chilli and Sisal
The Mexican sculptor Diana Mendieta (b. 1963) expresses in her small figures something about being dependant – in good and less good ways – on life circumstances and cultural history. Her choice of materials and motives reflects this theme. Mendieta's human figures hold their own poetic and fragile beauty.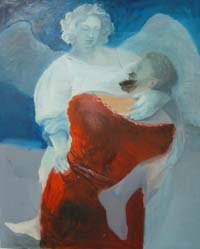 11 October - 11 January 09
Two Persons Meet
Six well-known motives from art history – by Rembrandt, Picasso etc. - and contemporary Danish artists have the meeting among humans in focus. The younger artists worked with paraphrases to the strong motives of the older artists. They wrestled with their colleagues in art history, showed respect, and dissociated themselves from them. See works by Jørgen Steinicke (b. 1949), Carsten Frank (b. 1954), Karen T. Christensen (b. 1967) and Bjørn Eriksen (b. 1957), who asked themselves about what you as an artist can do today, and discussed this question with colleagues and friends, among others art historian Leo Tandrup.
11 October - 4 January 09
THIS IS NOT FLESH – ONLY SPACE
The artist Espen Brandt-Møller (b. 1969) graduated from The Royal Danish Art Academy. With a simple, consequent, sensitive and humouristic exhibition he circles around oppositions and borderlines in concrete and mental experiences of space.