EARLY COUNTRY CHURCHES - Woodcuts by Poul Steffensen
"My woodcuts of country churches have all been cut at the site itself. It is necessary to be able to touch the church during the process, to feel the weight of the stones.

They are cut in their true orientation and are thus not apt for press printing, but can only be reproduced by the use of a wooden ladle and on Japanese paper where the colour truly comes to its right. The woodcut shows the church as it is seen in nature, which is essential."

"I believe that the preaching of our Lord Jesus Christ as the only true God is also expressed through the edifice of the church, through God's words to us and through the earthly works of art, which lets us see a faint reflection of the realm of Gud. Then darkened religion by the rule of law and empty contemplation of the self withers and vanishes."

Poul Steffensen

From the foreword to "Kirken den er et gammelt hus"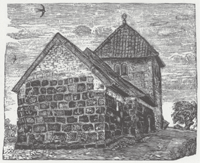 Hvidbjerg Church, Hindborg district, Viborg diocese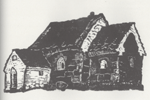 Alling Church, Gjern district, Århus diocese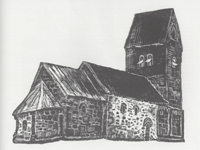 Lihme Church, Rødding district, Viborg diocese