FABRIC
Below an introduction to the catalogue by director of Trondheim Kunstmuseum, Randi Nygaard Lium.

The catalogue was published when the exhibition STOFF was shown at Trondheim Kunstmuseum from 14 Nov. 2004 - 2 Jan. 2005.
The catalogue has text in both Norwegian and English and can be purchased by contacting the Art Centres Museum Shop.

Price: 35,- DDK.
STOFF (FABRIC)
A material and a concept in art

Randi Lium Nygaard

The five female artists exhibiting here all have in common an innovative approach to their creative medium Stoff (Fabric). The word "stoff" (fabric) is in itself unpretentious. It gives rise to associations with textile materials, and contains elements of meaning rooted in an artistic dimension as well as the more everyday and unceremonious. I also see it in context with the term "Art Fabric" - the concept used in international textile art. The starting point here is that the use of fabrics and textiles is based on the idea that they have in them an inherent visual power and a potential for artistic expression.
An understanding of the word "fabric" in this exhibition can also be experienced conceptually, the fact that the starting point is a defined theme. Several of the artists exhibiting here have chosen textiles materials for the very reason that they are charged with cultural values. A collar on a man's white shirt symbolises power and authority.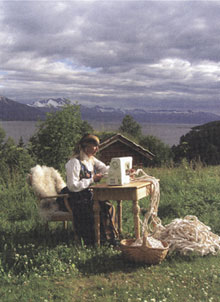 A simple, undyed canvas fabric creates associations with sheets, towels and table linen, and is an expression of women's culture in the traditionel sense. Each in their own way, these five artists; Marit Helen Akslen, Beret Aksnes, Anne Kvam, Edith Lundebrekke and Karin Aurora Lindell - all have something they want to say and a story they want to tell, be it to deliver a critical comment on society, to mark a particular theoretical stance in art, or to tell a personal story. Their works invite analysis and interpretation without any loss of the character of textile monumentality. It is precisely repetition and rhythm in the works of several of these artists that form the core of an interesting, abstract, non-figurative pictorial language.